And the Leaves of the Tree Were for the Healing of Nations
Philosophical Explorations and Documentary Strategies for Global Missions
Professor Gary Mar
Department of Philosophy, Stony Brook University
Stony Brook, New York 11794-3750
In the midst of the street of it, and on either side of the river, was there the tree of life,
which bare twelve manner of fruits, and yielded her fruit every month:
and the leaves of the tree were for the healing of the nations.
Revelation 22:2 (KJV)
經過城裡的街道。河的兩邊有生命樹,結十二次果子,每月都結果子;樹葉可以醫治列國
<![if !vml]>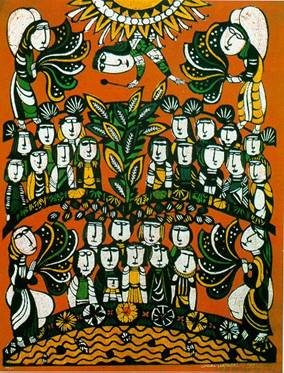 <![endif]>
Figure 1. Sadao Watanabe's "The Angel Ascends from the Rising Sun"
In loving memory of RKI, LAM, DJM, and JWM.
GRM, June 2007
Table of Contents
<![if !supportLineBreakNewLine]>
<![endif]>
I. A Sacred Metaphor: The Tree of Life. 2
I-A. The Tree of Life and the Healing of Nations. 2
I-B. A Digital Leaflet for the Healing of Nations: Like a Family Reunion. 2
I-C. Three Questionsthe Trunk, the Roots, and the Pruning of the Leaves. 3
II. The Theological Trunk: Identificational Repentance. 3
II-A. The Great Commission and the Healing of Nations. 3
II-B. No Future Without Forgiveness. 4
II-C. An Example: Abraham Lincolns Fervent National Prayer. 6
III. Historical Roots: A Philosophy of History. 7
III-A. Two Models of the Divine Action in Human History. 7
III-B. Who is the Seed of Abraham?. 9
III-C. Postmodernisms Skepticism Towards Grand Narratives. 10
III-D. J. R. R. Tolkiens and C. S. Lewiss Philosophy of History. 10
III-E. Pauls Sermon on Mars Hill: He is not far from each one of us. 12
IV. Pruning the Leaves: Strategies for Creating Like a Family Reunion. 13
IV-A. The Chinese Exclusion Act and a Legacy of Shame. 13
IV-B. Angel Island: the West Coast Version of Ellis Island?. 13
IV-C. A Yearning to Recover Family Roots. 15
IV-D. Digitally Designing and Disseminating Like a Family Reunion. 16
IV-E. Strategies of an Asian American Filmmaker. 16
V. Angel Island at the Intersection of Histories. 18
V-A. The Healing of U.S.-China Relations. 19
V-B. Confronting the Problem of Absence by Creating Presence. 19
V-C. Dispelling Stereotypes of Chinese by Discovering Chinese Gold. 21
V-D. Some Episodes in the History of Christian Missions in China. 22
V-E. Katharine Maurer, the Angel of Angel Island. 27
VI. Epilogue: An Enacted Parable. 28
The great Baptist preacher Charles Haddon Spurgeon (1834-1892) noted that there was a Tree of Life at the center of the first paradise (Genesis 2:9) and that there will be a Tree of Life at the center of the new paradise (Revelation 22:2). What is this Tree of Life? According to Spurgeon:
I say that Jesus Christ, my Lord and Master, is in Heaven and is there comparable to a tree planted in the very center of the City! Under his broad shadow, the redeemed delight to sit, and His leaves, as they are wafted down to earth, bring health with them! If we would be healed, we must gather those leaves and apply them to the wounds and bruises of our souls and we shall surely recover.The leaves of the trees were for the healing of nations.<![if !supportFootnotes]>[1]<![endif]>
According to Spurgeon, Jesus Christ is the Tree of Life. What then are the leaves of the tree for the healing of nations? Spurgeon extends his interpretation as follows:
The leaves of the treethat is to say, even little portions and single pages about Christ will do good Do not despise a mere leaf, or as you say, a leaflet, for if Christ is in it, it is a leaf of the Tree and he will bless it. Scatter the leaves! Let them fall as thickly as leaves descend in the last days of autumn. Scatter them everywhere, since they are for the healing of the nations!<![if !supportFootnotes]>[2]<![endif]>
This article is about one such leafletan original documentary project Like a Family Reunion: Researching My Family History at NARA. The idea for the documentary came about quite serendipitously when I became reacquainted, after 20 or more years, with my cousin Theresa Ihara on Mothers Day, 2006. Theresa had been researching our family history including digging up the documentation on her maternal great grandfather (and my paternal grandfather) Louie Mar (1859-1954). (Technically, this means that Theresa is my half first cousin once removed.)
At that time I said that it would be very educational and personally meaningful to create a documentary about the process she went through to recover our family history. Probably assuming that I wouldnt see her again for another 20 years, Theresa agreed it was a good idea. Less than two months later, a series of events conspired to turn this wishful thinking into a reality. With a team of talented friends and colleagues and with some funding from Allstate and OCA, we were able to create Like a Family Reunion and to distribute it to school teachers at a Conference on Prejudice Reduction later that year. Making this documentary is part of a larger project to donate an interactive computer kiosk to the Angel Island Immigration Station Foundation in 2010 to mark the hundredth anniversary of the opening of the Angel Island Immigration Station (1910-1940)<![if !supportFootnotes]>[3]<![endif]>
This article explores how this documentary leaflet can be part of the larger project of global missions in which the leaves of the Tree of Life are for the healing of nations. In this article I will briefly explore the following questions:
<![if !supportLists]> <![endif]>What is the theological trunk of the Treethat is, what is the scriptural basis for a type of spiritual warfare known as identificational repentance?
<![if !supportLists]> <![endif]>What are the historical roots of the Treethat is, what is a theology of history that allows us to understand the relation of divine purposes and human history? In particular, we will explore how the unduly neglected history of the Angel Island Immigration Station at the crossroad of American immigration history and the history of Christian missions in Asia can be a resource for the healing of nations.
<![if !supportLists]> <![endif]>What are some principles for pruning the leaves of the Treethat is, what are some strategies for making effective digital tracts or leaflets that can be drawn from the experience of Asian American documentary filmmakers?
The story of the making of Like a Family Reunion is a tale about the recovery of family history hidden in shame and silence, giving voice to ancestors by honoring the legacy of their struggles, and experiencing the healing that comes through placing ones family story in the public history of a nation. As historian Ronald Takaki has persuasively urged in his book A Different Mirror, America, as a nation, needs to cultivate a larger memory of who we have been and that much of our societys future will be influenced by which mirror we choose to see ourselves.
II-A. The Great Commission and the Healing of Nations.
The most-quoted passage relating to the Great Commission is Matthew 28:19, where believers are directed to go and make disciples of all nations [panta ta ethne]..... The Greek word translated nations is ethne (from which we get the word ethnic). So the word nations does not necessarily refer to nations in the geopolitical sense but to people groupsraces, sexes, ethnic communities, economic classes, religions, church denominations, families, or generations, to name a few examples. Although Matthew 28 is the most frequently cited reference, the Great Commission is also echoed in each of the other gospels (Mark , Luke 24:47, John ). Indeed, the Great Commission is a theme that winds, like a River of Life, through all of scripture.
In the call of Abraham (Genesis 12), known as the Great Commission of the Old Testament, God promises that through Abrahams seed all the peoples of the earth will be blessed (see also, Genesis 26:4, 28:14). The Great Commission is reflected in the all peoples perspective. This perspective recurs in many passages of the Old Testament, e.g., Psalm 2:8 proclaims Ask of me, and I will make the nations your inheritance, the ends of the earth your possession. Beginning in Genesis and winding through all of scripture, the theme of the Great Commission ultimately issues forth in the eschatological vision St. John in Revelation 21:24-22:2:
The nations will walk by its light, and the kings of the earth will bring their splendor into it. On no day will its gates ever be shut, for there will be no night there. The glory and honor of the nations will be brought into it. Nothing impure will ever enter it, nor will anyone who does what is shameful or deceitful, but only those whose names are written in the Lamb's book of life.
Then the angel showed me the river of the water of life, as clear as crystal, flowing from the throne of God and of the Lamb down the middle of the great street of the city. On each side of the river stood the tree of life, bearing twelve crops of fruit, yielding its fruit every month. And the leaves of the tree are for the healing of the nations.
This healing of nations is, therefore, central to fulfilling the Great Commission. The Bible does not speak about humanity but about all the families of the earth or all the nations, notes theologian Lesslie Newbingen: It follows that this mutual relatedness, this dependence of one on another, is not merely part of the journey toward the goal of salvation, but is intrinsic to the goal itself.<![if !supportFootnotes]>[4]<![endif]>
<![if !vml]><![endif]>II-B.

No Future Without Forgiveness.
Figure 2. Bishop Tutu on Restorative Justice
The greatest sins and injustices in history have not been committed by individuals acting independently, but by groups of individuals committing collective atrocities and then rationalizing their actions in the name of patriotism, racial superiority, political ideologies, and even religious zeal. Sins of nations (or people groups) committed by one group against another, must be confessed and forgiven corporately. Unless those who inherit the responsibility for those sins are willing to identify with their people groups, to confess their corporate sins, to seek forgiveness, and to walk in obedience to whatever reparations are required to restore relationships, generations will be locked into the sins of their fathers. In Exodus 20:5b we read: I the Lord your God am a jealous God punishing the children for the sin of the fathers to the third and fourth generation of those who hate me. If the deep wounds of history remain buried and unresolved, there can be no deep and lasting peace. In the words of the prophet Jeremiah ( and reiterated in ): They dress the wound of my people as though it were not serious. Peace, peace, they say, when there is no peace.
The title of Bishop Desmond Tutus essay on the work of the Truth and Reconciliation Commission in South Africa is a succinct summary of why the healing of nations is so critical to the future of humanity: Without Forgiveness There Really is No Future. In this essay, Bishop Tutu writes:
True forgiveness deals with the past, all of the past, to make the future possible. We cannot go on nursing grudges even vicariously for those who cannot speak for themselves any longer. We have to accept that what we do, we do for generations past, present, and yet to come. That is what makes a community a community or a people a peoplefor better or worse. <![if !supportFootnotes]>[5]<![endif]>
Some might object that such lavish and radical forgiveness is fundamentally unjust. Again Bishop Tutu:
One might go on to say that perhaps justice fails to be done only if the concept we entertain for justice is retributive justice, whose chief goal is to be punitive so that the wronged party is really the state, something impersonal, which has little consideration for the real victims and almost none for the perpetrator. We contend there is another kind of justice, restorative justice, which was characteristic of traditional African jurisprudence. Here the central concern is not retribution or punishment. In the spirit of ubuntui, the central concern is the healing of breaches, the redressing of imbalances, the restoration of broken relationships, a seeking to rehabilitate both the victim and perpetrator, who should be given the opportunity to be reintegrated into the community he has injured by his offense.<![if !supportFootnotes]>[6]<![endif]>
Forgiveness, argues Tutu, is not contrary to justice, but part of a different conception of justice: restorative justice is a conception of justice that includes and extends the more common notion of retributive justice.
II-C. Identificational Repentance.
The healing of nations comes about by prayers of identificational repentance. Although this term is due to John Dawson<![if !supportFootnotes]>[7]<![endif]>, theological models can be found in Daniel 9:4-19, Nehemiah 1:1-10, and Ezra 9:5-13 and the scriptural basis can be found in 2 Chronicles 7:14 If my people who are called by my name, will humble themselves and pray and seek my face and turns from their wicked ways, then will I hear from heaven and will forgive their sin and will heal their land. Identificational repentance typically involves confession, repentance, reconciliation and restitution.
Confession

: acknowledging the truth about unjust or harmful actions of my nation or people group towards another.

This often involves researching or digging up history to uncover the festering wounds that has been covered over by guilt or shame.
Repentance

: turning away from those actions.

A prayer of repentance may involve formally and symbolically apologizing to and asking the forgiveness of representatives of the victims of the corporate sins.
Reconciliation

: expressing and receiving forgiveness and pursuing fellowship with previous enemies.

Without these further action steps, the apologizing mentioned above can seem to be empty words.

True reconciliation cannot happen if words are not followed by credible actions: walking in obedience to God to restore broken relationships.
Restitution

: attempting to restore what was damaged or destroyed; seeking to do justice in whatever way one has the power to act or influence those in authority.
Legal models of pursuing racial justice and reparations have been successfully argued before the Supreme Court and articulated by University of Hawaii law professor Eric Yamamoto<![if !supportFootnotes]>[8]<![endif]> in several books including Interracial Justice: Conflict and Reconciliation in Post Civil-Rights America (NYU Press: New York, 2000) and Race, Rights and Reparation: Law and the Japanese American Internment (Aspen Press: 1999) co-authored with Chon, Izumi, Kang and Wu, which received national attention in light of its relevance to the post-September 11th tension between national security and civil liberties in America.
Abraham Lincolns second inaugural address is a striking historical example of identificational repentance. At the time Lincoln delivered the speech, the London Spectator commented, We cannot read it without a renewed conviction that it is the noblest political document known to history, and should have for the nation and the statesmen he left behind him something of a sacred and almost prophetic character."<![if !supportFootnotes]>[9]<![endif]> Historians have traced Lincolns changing attitudes towards the political and moral dilemma of slaverypainting more and less flattering portraits, for example, of the timing and compass of the Emancipation Proclamation. Nevertheless, according to Stephen Carter, Lincolns greatness lay in elevating the Declaration of Independence above the legalism of the Constitutioncalling Americans to give up their self-interest to live up to the ideals of freedom.<![if !supportFootnotes]>[10]<![endif]> It seems that a critical turning point of the Civil War occurred when President Lincoln finally came to the realization that it was not enough to restrict the spread of slavery into the new territories but that America as a nation had to repent for having been conceived in the sin of slavery.<![if !supportFootnotes]>[11]<![endif]> Lincolns view of Gods providence in human history, the rhetorical echoes of Biblical language, and his repentance over the compromise of Americas creational blessing to be a land of freedom, imbues his speech with its prophetic character.
If we shall suppose that American slavery is one of those offenses which, in the providence of God, must needs come, but which, having continued through His appointed time, He now wills to remove, and that He gives to both North and South this terrible war as the woe due to those by whom the offense came, shall we discern therein any departure from those divine attributes which the believers in a living God always ascribe to Him? Fondly do we hope, fervently do we pray, that this mighty scourge of war may speedily pass away. Yet, if God wills that it continue until all the wealth piled by the bondsman's two hundred and fifty years of unrequited toil shall be sunk, and until every drop of blood drawn with the lash shall be paid by another drawn with the sword, as was said three thousand years ago, so still it must be said the judgments of the Lord are true and righteous altogether.
With malice toward none, with charity for all, with firmness in the right as God gives us to see the right, let us strive on to finish the work we are in, to bind up the nations wounds, to care for him who shall have borne the battle and for his widow and his orphan, to do all which may achieve and cherish a just and lasting peace among ourselves and with all nations.
If Americas creational blessing was to become a torch of freedom to the world and a refuge for immigrants seeking a new life, then her greatest sin has been to sacrifice this blessing for wealth and power, and one of the most egregious expressions of this sin was the institution of slavery.
American history is full of examplesfrom Columbus initiation of the trans-Atlantic slave trade<![if !supportFootnotes]>[12]<![endif]> to the post 9-11 rhetoric of a war against terrorismof abuses that arise from invoking Gods name to rationalize sins of slavery, greed, and racism. Such abuse, however, does not take away from the proper use of a biblical perspective on history that can lead a nation from repentance to healing.
For Christians to participate in the Great Commission, then, is to engage in the healing of nations and to engage in the healing of nations requires identificational repentance. For identificational repentance to be rooted in the truth, Christians must struggle to recover the sometimes shameful hidden history of nations or people groups inflicting wounds on each other. Historical research alone, however, only goes so far in revealing the horrendous evils of hatred and the wounding of nations. And there is no future without forgivenessthe mystery and power of the cross of Christ to reveal the historical wounds in our national souls, to cleanse our souls from these buried sins in the light of truth, and to give us the courage to walk in obedience towards a future of restored relationships. In the next section, we articulate a Christian philosophy of history.
History, according to a Christian perspective, is not merely a random series of happenings, but a meaningful sequence of events in the grandest of all narrativesa narrative that lead to the end of history in the final fulfillment of Gods purposes for humanity. Moreover, the acts of God in history are not limited to the Old and New Testaments, but continue today in the unfolding of current events. To clarify how this might be conceived, I borrow two contrasting pictures from Robert Farrar Capons Parables of Judgment. The first picture sees God as transcendent upon, but connected to, human history through a few critical biblically-recorded divine interventions. Robert Capons explains:
<![if !vml]>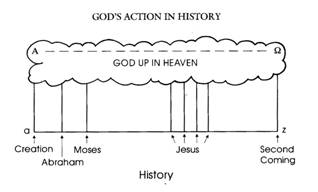 <![endif]>Since God, the Alpha and Omega, the A and the W, is up there above history, I shall draw a series of descending lines to represent his several comings downhis interventions in history, his intersections in history. The picture we have drawn looks like nothing so much as a divine sewing machine, with the needle coming down at various points and tacking God to history. It is salvation as the divine basting stitch. <![if !supportFootnotes]>[13]<![endif]>
Figure 3. The Divine Tailor or Interventionist Model of Gods Relation to Human History
The above divine tailor or interventionist view of history with its occasional biblically-recorded accounts of divine actions connecting heaven and earth can be contrasted with what might be called the divine iceberg or sacramental view of Gods relationship to human history. Capon contrasts and continues:
Figure 4. The Divine Iceberg or Sacramental Model of Gods Relation to Human History.
<![if !vml]>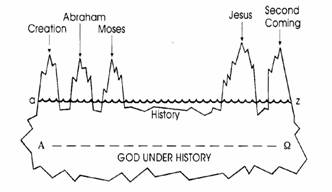 <![endif]>But now, let me posit God not as a divine tailor in heaven sending down an interventionist needle from time to time but as a divine iceberg present under all of time. On that analogy, one-tenth of his presence to history will be visible above the surface of its waters and nine-tenths will be invisible below the surface, but his presence out of sight will be as much a part of history as his presence in broad daylight. The divine acts in history are not just occasional interventions of a reality that wasnt present before, they are precisely acted parablessacraments, if you will, real presences--of a reality that was there all along.<![if !supportFootnotes]>[14]<![endif]>
If Gods interaction with human history is more like an iceberg than a sewing machine, then it is reasonable to suppose that the particular cross section of the iceberg represented by the narrative of scripture might intersect with the cross-sectional histories of many nations. Martin Luther King Jr., for example, could direct and inspire the Civil Rights struggle in America by drawing upon the Old Testament narrative of the liberation of the Jewish nation from Egypt. When Christians immerse themselves in the gospel narratives, they naturally interpret the events of their lives through the spiritual categories and truths of the Scripturesuch notions as creational blessing, fall, and redemption. This is part of what is meant by conversion. Similarly, to interpret our nations historylike our life stories--through the categories of scripture is an invitation to see more, and more deeply.<![if !supportFootnotes]>[15]<![endif]>
<![if !vml]>
<![endif]>
If a Christian philosophy of history connects divine action in history (not like a sewing machine, but like an iceberg), then one can expect that even at times of greatest darkness (in the 10% of highly visible events of world history), there can be, at the very same time, a divine rescue operation at work (in the 90% of the iceberg of history below the level of visibility). We can see this at work in scripture by revisiting the Old Testament Great Commission. The Abrahamic promise was that his seed would be a blessing to all nations. In Galatians 3:16, Paul explains: The Scripture does not say and to seeds, meaning many people, but and to your seed meaning one person, who is Christ. The seed, therefore, is Christ (vide Acts ), and by extension all who believe in Christ are Abrahams seed, and heirs according to the promise (Galatians ).
<![if !vml]>
<![endif]>That seed, however, was already promised in the first Messianic prophecy in Genesis 3:15: I will put enmity between you [the Serpent] and the woman between your seed and hers; he will crush your head, and you will strike his heel. This prophecy states that the seed of the womanJesus Christ--will crush the serpents headSatan--at the cost of the serpent striking his heelthe crucifixion of Christ. And adding to Spurgeons interpretation, Christ is also the Seed of the Tree of Life, a sacred metaphor for the reconciling work of the Great Commission.
If the above philosophy of history is correct, then a Christian view of history is indeed a grand narrative. Theologians Richard Middleton and Brian J. Walsh admit, Scripture discloses a worldview in storied form. It is difficult to see how one could take the biblical presentation of creation, fall and redemption as merely a local tale. Indeed, it is difficult to find a grander narrative, a more comprehensive story anywhere. Christianity is undeniably rooted in a grand narrative that claims to tell the true story of the world from creation to eschaton, from origin to consummation.<![if !supportFootnotes]>[16]<![endif]>
According to Jean-Francois Lyotards famous remark, Postmodernism can be defined as incredulity toward metanarrativesas skepticism towards all grand narratives. The Grand Narrative of the Enlightenment, for example, is a story of the triumph of science and rationality over superstition and religion. However, a closer examination of the Enlightenment reveals the collaboration of philosophy with the rationalization of racism and colonialism. For example, John Locke justified the Royal Africa Companys slave expeditions as just wars, and recently Immanuel Kants racist remarks have been much discussed.<![if !supportFootnotes]>[17]<![endif]> Contemporary scholars of race theorysuch as Paul Gilroy, Theo Goldberg, Charles Millshave convincingly argued that such examples are revealing, not because they contradict Enlightenment ideals, but because they flow naturally from its commitments to categorizing, classifying, and controlling. Generalizing from such examples, Postmodernism preaches skepticism towards all grand narratives. No narrative is able to encompass the experiences and perspectives of all peoples and hence all Grand Narratives inevitably serves to legitimate and universalize the perspective of the ruling elite and to marginalize the experiences of others.
How can a Christian philosophy of history respond to the critique of Postmodernism? A Christian philosophy of history can, and should, take advantage of the incisive Postmodern critiques of the Grand Narratives of the Enlightenment, Marxism, and Darwinism. The folly and deceptiveness of human philosophy compared to the wisdom of God (Colossians 2:8, 1 Corinthians ) is a well-known theme from scripture. However, these critiquesand even critiques of Christian scripture twistingcan be acknowledged without embracing Postmodernisms grand claim of universal skepticism and relativism. Alistair Macintyre in After Virtue (1981, second edition, 1984) insightfully points out that Postmodernism is, in fact, the inverted mirror image of the Enlightenment. According to Macintyres diagnosis, the unwarranted power of relativism in contemporary intellectual life derives largely from the simplistic inversion of certain central Enlightenment positions. Isnt Postmodernism itself caught in an inconsistency in preaching universal relativism and in assuming the privileged perspective of an all-knowing skepticism? If Postmodernism is itself a kind of Grand Narrative that is open radical doubt, then this leaves open the intriguing possibility of a true Grand Narrative or a true myth.
J. R. R. Tolkien in his Andrew Lang lecture On Fairy-Stories given at the University of St. Andrews on March 8, 1939, suggests an intriguing answer to the nagging question of whether a Christian interpretation of history is just a fairy tale. Tolkien calls attention to the particular quality of joy in a successful fantasy or, by extension, a Christian interpretation of history that can only be explained as a glimpse of the underlying reality or truth.<![if !supportFootnotes]>[18]<![endif]>
It is not difficult to imagine the peculiar excitement and joy that one would feel, if any especially beautiful fairy-story were found to be primarily true, its narrative to be history, without thereby necessarily losing the mythical, or allegorical significance that it has possessed.
[I]n Gods kingdom the presence of the greatest does not depress the small. Redeemed Man is still man. Story, fantasy, still go on, and should go on. The Evangelium has not abrogated legends; it has hallowed them. The Christian has still to work, with mind as well as body, to suffer, hope, and die; but he may now perceive that all his bents and faculties have a purpose, which can be redeemed. So great is the bounty with which he has been treated that he may now, perhaps, fairly dare to guess that he may actually assist in the effoliation and multiple enrichment of creation.<![if !supportFootnotes]>[19]<![endif]>
In Surprised by Joy, Lewis recounts how a conversation with Tolkien removed the last intellectual obstacle to his conversion from atheism to Christian theismthe abundance of pre-Christian pagan myths with the idea of the dying and reviving god.
...now what Dyson and Tolkien showed me was this: that if I met the idea of sacrifice in a Pagan story I didnt mind it at all; again, that if I met the idea of a god sacrificing himself to himself... I liked it very much and was mysteriously moved by it: again, that the idea of the dying and reviving god (Balder, Adonis, Bacchus) similarly moved me provided I met it anywhere except in the Gospels. The reason was that in the Pagan stories I was prepared to feel the myth as profound and suggestive of meaning beyond my grasp even tho I could not say in cold prose what it meant. Now the story of Christ is simply a true myth: a myth working on us in the same way as the others, but with this tremendous difference that it really happened: and one must be content to accept it in the same way, remembering that it is Gods myth where the others are mens myths: i.e., the Pagan stories are God expressing Himself through the minds of poets, using such images as He found there, while Christianity is God expressing Himself through what we call real things. Therefore it is true, not in the sense of being a description of God (that no finite mind can take in) but in the sense of being the way in which God chooses to (or can) appear to our faculties. The doctrines we get out of the true myth are of course less true: they are translations into our concepts and ideas of that which God has already expressed in a language more adequate, namely the incarnation, crucifixion, and resurrection. Does this amount to a belief in Christianity? At any rate I am now certain a) That this Christian story is to be approached, in a sense, as I approach the other myths. b) That is the most important and full of meaning. I am also nearly certain that it really happened.
If Tolkien and Lewis are right, then skepticism towards Grand Narratives deconstructed by human minds does not preclude the possibility of seeking to understand a true narrative disclosed by God. Lewis is the first to admit that the theological concepts we draw from the narrative of scripture are less than completely true because they are limited by our finite minds. But this is a concession, not to relativism, but to epistemological humility. However, if God has chosen to express His story in a narrative form, then, Lewis supposes, God has the power and creativity to express Himself through real history. Human beings write their myths in words and images but God writes His Story in history. Human beings do not escape their finite limits by grasping transcendental knowledge of a world beyond, but the Author of history could choose to reveal himself by writing himself as a character in human history. The experience of the Resurrection that burned in the hearts of the disciples, and in the lives of believers throughout the millennia, is precisely the shock of recognition of the Living God. Lewis described this shock in one of his most memorable passages from his book Miracles:
It is always shocking to meet life where we thought we were alone. Look out! we cry, its alive. And therefore this is the very point at which so many draw back--I would have done so myself if I could--and proceed no further with Christianity. An impersonal Godwell and good. A subjective God of beauty, truth and goodness, inside our own heads--better still. A formless life-force surging through us, a vast power which we can tap--best of all. But God Himself, alive, pulling at the other end of the cord, perhaps approaching at an infinite speed, the hunter, king, husband--that is quite another matter. There comes a moment when the children who have been playing at burglars hush suddenly: was that a real footstep in the hall? There comes a moment when people who have been dabbling in religion (Mans search for God!) suddenly draw back. Supposing we really found Him? We never meant it to come to that! Worse still, supposing He had found us?
III-E.

Pauls Sermon on Mars Hill:

He is not far from each one of us

.
If, as we have argued, history from a Christian perspective is like an iceberg, then there is more to history than meets the eye. Below the surface, even local histories can be deeply connected to Gods global plan of salvation for all peoples. As Paul preached in his famous sermon to the philosophers on Mars Hill (Acts -28):
The God who made the world and everything in it is the Lord of heaven and earth and does not live in temples built by hands. And he is not served by human hands, as if he needed anything, because he himself gives all men life and breath and everything else. From one man he made every nation of men, that they should inhabit the whole earth; and he determined the times set for them and the exact places where they should live. God did this so that men would seek him and perhaps reach out for him and find him, though he is not far from each one of us. For in him we live and move and have our being. As some of your own poets have said, We are his offspring. .
This essay has been an extended meditation on the scripture And the leaves of the tree were for the healing of nations. In section I, we set forth the sacred metaphor of the Tree of Life. In section II, we argued that the theological trunk for the healing of nations is the prayer of identificational repentance. Nations or people groups are natural and necessary units of reconciliation because of the history of the worlds sins have been nation against nation, or people group against people group. In this third section, we set forth a philosophy of history that attempts to give a model of Gods interaction in the human history of all peoples and to answer the postmodern skepticism towards all Grand Narratives.
In the next section we will illustrate how the local is a connected to the globalhow Gods healing work in the recovery of a family history can be a point of connection to Gods larger plans for global missions. We shall do this by revealing the remarkable history behind some of the surprising and historically significant records to be found at National Archives and Records Administration (NARA) in San Bruno relating to the documents generated by the immigration station located at the North Garrison of Angel Island.
The wealth of information in the NARA archives in San Bruno is due to a historical fact that is not widely known by most Americans: the North Garrison on Angel Island was set up to be an immigration station (1910-1943) to enforce the infamous Chinese Exclusion Act. The Chinese Exclusion Act of 1882 was the first law in U. S. history to single out a particular group for exclusion by race and class. When the 1906 San Francisco earthquake destroyed municipal records, this act of God created a legal loophole for Chinese to circumvent the discriminatory exclusion acts. The Chinese living in Americaas legal citizens or aliens--realized they could claim to be naturalized citizens. They, in turn, could become an anchor for a chain of paper sons and daughters who could emigrate to America bypassing the gates of the exclusion laws on the basis of family reunification.
While this practice of paper sons and daughters was illegal, one must not conflate illegality with immorality. Ling-chi Wang, emeritus professor of ethnic studies at U. C. Berkeley, has forcefully pointed out that of all the immigrant groups, the Chinese have been subjected to the longest history of legalized discrimination in America:
[The United States] enacted no less than fifteen Chinese exclusion laws from the early 1880s to the early 1990s. In effect, they criminalized Chinese in the U. S. by race. After the exclusion, those in the U. S. already were discriminated against, denied, sometimes, even their constitutional rights, giving rise to the popular expression, Not a Chinamans chance. They were also denied the right of naturalization, rendering them permanent aliens and their image, as perpetual foreigners, even if they were born in and therefore citizens of the U.S. This is also why as the U.S. strongly pushed the Open Door policy on China at the turn of the century to protect U.S. interests in China, the U.S. Congress continued to enact harsher laws and more restrictive regulations to close the door to Chinese immigrants of all classes and to severely limit their opportunities in the U.S. These restrictive laws were not effectively repealed until 1965.<![if !supportFootnotes]>[20]<![endif]>
Although the Chinese Exclusion Act was nominally repealed by the 1942 Magnuson Act, it only raised the national quota of 100 Chinese immigrants from anywhere in the world to a yearly quota of 105. This quota compares to the yearly quota of 65,721 from Great Britain and Northern Ireland. It was the 1965 Hart-Cellar Act that finally put Asian immigration on an equal footing with other nations.
IV-B.

Angel

Island

: the West Coast Version of

Ellis Island

?
Angel Island is sometimes described as the West Coast version of Ellis Island. However, unlike Ellis Island where white European immigrants were welcomed, Angel Island was a place where Chinese immigrants were treated like criminals. Asian immigrants coming through the West Coast were processed on Angel Island, but only the Chinese were singled out for long detentions and harsh interrogations. In contrast to Ellis Island where processing would take a matter of hours, on Angel Island the Chinese were detained for weeks and months, even years.
On the walls of the barracks, the Chinese carved poems expressing their loneliness, disillusionment, and protest. The Chinese poems carved on the walls of Angel Island are especially poignant and reveal the hopes and hardships of the Chinese immigrants stranded in a land without ghostsa place where people are so enchanted with the lure of wealth that they have forgotten where they came from and who their ancestors were.<![if !supportFootnotes]>[21]<![endif]>
There are tens of thousands of poems
on these walls
They are all cries of suffering and sadness
The day I am rid of this prison and become successful
I must remember that this chapter once existed
I must be frugal in my daily needs
Needless extravagance usually leads to ruin
All my compatriots should remember China
Once you have made some small gains,
You should return home early.
Felicia Lowe, cultural activist and the director and producer of Carved in Silence, the classic documentary on the Chinese detainees on Angel Island, noted: Once you go into the building and see this poetry, unless youre a piece of wood, you cannot help but be touched by the experience. The walls speak to you.
Figure 7. Angel Island Poems Carved in Silence.
<![if !vml]>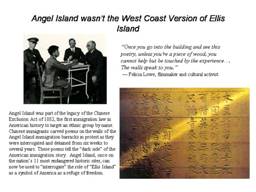 <![endif]>In 1999 the National Trust for Historic Preservation (http://www.nationaltrust.org) listed the Angel Island Immigration Station as one of Americas 11 most endangered historic sites: A unique and moving record of the hardships they endured can be found in the 30 years worth of Chinese poetryas well as other inscriptions in Japanese, Russian, Arabic, East Indian, German and Englishcarved in the walls of the former Detention Barracks. Unless stabilization is undertaken soon, many of Californias state-owned historic placesincluding the Angel Island Immigration Station, with its poignant record of hope and heartbreakwill crumble and disappear.
The Chinese Exclusion Act and the Angel Island experience have created a legacy of shame and fear within the Chinese American community. In researching his book Chinese Gold, Sandy Lydon noted the chilling legacy of the exclusion act continued to cast a shadow on generations of Chinese who harbored deep-seated fears of being deported. One of the saddest legacies of the Exclusion Law is the inability of many Chinese-Americans to trace their genealogies back more than two or three generations. During its existence (1882-1943) the Exclusion Law destroyed most of the Chinese families it touched, permanently separating members in America from those in China. From the family-conscious Chinese this inability to trace their genealogy back beyond 1900 is tragic.<![if !supportFootnotes]>[22]<![endif]>
As mentioned above, it was on Mothers Day 2006 when the project of creating a documentary about researching ones family history using the San Bruno archives relating to the Angel Island Immigration Station was birthed. When the families were getting together for Mothers Day, I was excited to discover that my cousin Theresa had actually been to the San Bruno archives. Although I had known about the San Bruno archives, I had never had the opportunity to go there myself.
<![if !vml]>
<![endif]><![if !vml]>
<![endif]>
Having worked on a project for the Angel Island Immigration Station foundation since 2000, I called up the Angel Island Immigration Station Foundation (www.aiisf.org) to update them. While on the phone I found out from educational coordinator Erika Gee that the AIISF was hosting, for the first time, NARA 101, a Family History Day at the National Archives at San Bruno. The facilities would be opened that Saturday as an outreach to the Chinese American community, teaching families how to use the archives to discover their family roots. It turned out that I was driving out to the Bay Area that weekend and so I called my friend and U. C. Berkeley colleague Loni Ding, a Emmy Award-winning PBS documentary filmmaker and executive director of the Center for Educational Telecommunications (www.CETEL.org). I called Loni to see if I could borrow a camera and to get her advice for filming this unique opportunity. Loni Ding has been making history-making documentaries about Asian Americans for over 30 years; for example, her documentary The Color of Honor: Japanese American Soldiers in World War II was screened in both houses of Congress in 1988 and is credited with being a critical factor in the passage of the historic 1988 Civil Liberties Act.
After talking to me on the phone for over an hour, Loni called back and said she would cancel her plans for the day and teach me how to shoot. Loni would personally show me how to get the kind of footage needed for a documentary that gave voice to those who are invisible in that history. With Lonis patient and persistent coaxing, Theresa had the encouragement, and freedom, to express why she felt compelled to seek out her family roots. We brought her notebooks of researchwith the family trees she had painstakingly created on her computer, copies of original documents, and the file numbers of the family documents that needed to be pulled. The raw materials of her historical research were at hand so Theresa could point to what she had done and how she felt about it. So many circumstances came together serendipitously to make Like a Family Reunion possible.
Since this was the very first time this type of workshop had been arranged between the AIISF and NARA, Felicia Lowe, the director of Carved in Silence, was on hand to welcome the workshop participants. Director of Archival Operations NARA, Daniel Nealand, would be giving an introductory talk in which he mentioned some of the historical highlights to be found within the archives. This was an unexpected convergence of circumstances. How else would we be able to get, in such a short amount of time, the best possible footage shot by the most experienced Asian American documentary filmmaker in the nation and an introductory talk explaining the historical significance of NARA? Moreover, this would be the first time I would be able to see and hold the actual documents relating to my own family history. There was a healing of nations for me personally in reconnecting with this family history.
I learned about the craft of documentary filmmaking from observing how Loni Ding patiently elicited from Theresa personal accounts of what she was doing, why she was doing it and, more importantly, how she felt about what she was doing. By giving Theresa the gift of her active listening presence, Loni created a safe space where Theresas feelings could be honestly expressed. When I reviewed the two 45 minute tapes of footage that Loni had shot, I realized that it was these moments of epiphany that give a documentary its ring of truth.
It took me the next three months to produce the 9 minute and 48 second documentary. The documentary was a special feature on a DVD entitled Cinderella and the $10,000 Haircut, which was created with the help of friendsvideo editor, DVD designer, and Master of Fine Arts graduate student Ha Na Lee, Christian musician and composer Chihwei Julie Li, and veteran TV director Dini Diskin-Zimmerman. A grant from Allstate and the Organization of Chinese Americans allowed of the DVD to be distributed at the 14th annual Conference on Prejudice Reduction on November 14, 2006 at the Charles B. Wang Center at Stony Brook University on Long Island, New York. You can view or download a PodCast of Like a Family Reunion at https://podcast.ic.sunysb.edu/weblog/gary_mar/.
As I was editing Like a Family Reunion, I was guided by Loni Dings illuminating advice in Strategies of an Asian American Filmmaker:
Almost all my work has been for television, designed for reaching a mass audience. In doing that, I've made certain assumptions about the audience. I assume, for example, that they carry somewhere in their minds three common misrepresentations of Asian Americans: the common stereotypes of Asians as perpetual foreigner, as resigned, silent victims, and more recently, as successful model minorities who contribute to America. I have tried not to counter these misrepresentations directly, but rather to address the three kinds of stereotypes in my overall project design to ' show the opposite rather than to explain, argue and oppose.
For the problem of absence, the main work is to create presence. My preferred approach is to displace stereotypes with individual faces, voices, and personal histories that we come to know and care about. They would not be the Americans whose differences are dissolved into the 'melting pot. But people speaking with the distinctive accents and rhythms of their real individual and family histories; neither looking nor sounding like the typical American. <![if !supportFootnotes]>[23]<![endif]>
<![if !vml]>
<![endif]>Following Lonis advice, I tried to imbue Like a Family Reunion with a voice of those who are usually absent from history. Several moments in the documentary stand out to me because they speak the truth. The first moment comes when Theresa describes what it was like to hold the original documents in her hands. History never meant anything to me until now, she says. When I first saw the pictures, it was like my family had been waiting here for over 80 years or so, waiting to be rediscovered. No one had come to see who they are. So it was like a family reunion. A second moment occurs when Theresa, after reading portions of the transcript of a demeaning interrogation of Lee Fook Toy, Louie Mars first wife, objects to the document calling her an alleged wife. This meant that the interrogators were trying to trip her up because Lee Fook Toy was assumed to be guilty until proven innocent. Rather than accepting the stereotype of her family members as perpetual foreigners, Theresa instead points out the unfairness they had to endure as American citizens. Putting aside, for the moment, the struggle to have ones citizenship recognized and respected, there was the more basic issue of the struggle for survival. Noticing the unusually high mortality rate of babies in my family lineage, Loni remarked that my very existence was something of a miracle. A third momentand what I regard as the emotional climax of the pieceoccurs when Theresa talks about how her great grandfather helped others to bring their families to America: He was very kind. And that, in itself, considering all that hes gone through, really means a lot to me because adversity didnt change the way he cared about people. Thats my kind of person. Thats my great grandfather. Rather than countering the hideous caricatures of the Chinese, the documentary paints a portrait of an ordinary hero and provides a history that can be shared with others.
The voice of history that emerges from Like a Family Reunion is, therefore, quite a different one from the Grand Narrative that merely rehearses a litany of discriminatory decrees of officials (e.g., the Chinese Exclusion Act, the Scott Act, the Geary Act, etc.) against a victimized group. Instead, a documentary gives voice to the people who have struggled to attain freedom and dignitye.g., we can read the poetry about the longing for freedom carved in protest on the walls of Angel Island, we can sense the indignities suffered by relatives from the transcripts of the interrogations based on the assumption that they were liars, we can take pride in the legal victories of the Chinese who pooled their resources to challenge injustices of the American legal system. To omit the stories of these hard-won victoriesno matter how fleetingof Americas peoples is to give the false impression that history is only about the official acts of those in power. The struggles of these ordinary Chinese contributed to making America a freer and more democratic nation for all. Like a Family Reunion also makes my family history part of American history, and so, in its small way, is part of the remembering and re-visioning of history required for the healing of a nation.
Like a Family Reunion is also a leaflet, which reflects, in its small but unique way, the greater light of the Gospel. Isnt there a facet of the Gospel story reflected in the remembrance of a man who generously sacrificed so that others could come to a land of freedom? In the demeaning questions designed to trip up his alleged wife isolated in an interrogation room on Angel Island, isnt there an echo of Satans temptation of Christ in the wilderness with the insinuating words if you are the Son of God? And in experiencing a family reunion through recovering the life of a grandfather buried in the tomb of government archives, isnt there a reflection of Resurrection Sunday?
According to Tolkien, such moments of true joy have the very taste of primary truth. The joyous turn aroundthe eucatastrophe in which good emerges out of the darkness of sufferingis true because it reflects the deeper truth of the Son of God entering into the prison of this world, to be interrogated by the Enemy, to die and then to be resurrected. Whereas we human beings tell our stories in words and images, God has told, and is telling, His story in history. As Tolkien puts it, Legend and History have met and fused. We should therefore be encouraged to tell our stories even if we think such stories have been told before. Our stories are unique and, if successful, pay homage to the one True Myth. Tolkien writes, Spring isnot really less beautiful because we have seen or heard of other like events. Each leaf is a unique embodiment of the pattern, and for some this very year may be the embodiment, the first ever seen and recognized, though oaks have put forth leaves for countless generations.<![if !supportFootnotes]>[24]<![endif]>
From 1910-1940, the Angel Island Immigration Station processed about 175,000 Asian Immigrants, and so it is uniquely situated at the intersection of the histories of the United States and China, as well as other Asian nations. A brief history of the history of the Angel Island Immigration State illustrates how the recovery of history can also restore the dignity of a people whose history has been buried in shame.



Recovering the History of Angel Island

1940

Angel Island Immigration Station is closed because the Administration building burns to the ground.

1943

Congress repeals the Chinese Exclusion Act since China is a U. S. ally in World War II, but the law continues to limit Chinese immigration to 105 persons per year. The station is re-opened to be used as a POW camp by the U. S. military.

1963

Angel Island established as a State Park

1965

Hart-Cellar Act finally puts Asian immigration on an equal footing with other nations.

1970

California State Park Ranger Alexander Weiss rediscovers the Chinese poems carved on the barrack walls and contacts San Francisco State Professor George Araki who, together with photographer Mak Takahashi, spark the interest of the Asian American community.

1976

The Angel Island Immigration Station Historical Advisory Committee (AIISHAC) headed by Paul Chow succeeds in lobbying the California State legislature to appropriate $250,000 to restore and preserve the barracks as a state monument.

1983

The barracks are opened to the public and the Angel Island Immigration Station Foundation (AIISF) is formed to partner with the California State Parks and the National Park Service to restore the historic immigration station and to educate the public about the role of Pacific Rim immigration in U.S. history.

1997

The Angel Island Immigration Station was declared a National Historic Landmark by the National Park Service.

1998

Save America's Treasures, a project of the National Trust and the White House Millennium Council, adopts Angel Island Immigration Station as one of its Official Projects, providing $500,000 for the preservation of the precious Chinese poems carved into the barracks walls.

2000

California voters passed a state bond measure that set aside $15 million specifically for restoration of the Angel Island Immigration Station.

2007

The Angel Island Immigration Station is closed for renovations and restoration as a historic site.

2010

Centenary celebration of the Angel Island Immigration Station.
As a result of the Angel Island Immigration Station being such an important historical point of intersection, the archives at NARA, which contains its paperwork, contain some historically significant files. In the documentary, we highlight the following:
Wong Kim Ark

, of the famous Supreme court challenge

U.S. v. Wong Kim Ark (1898), which ruled that the 14th Amendment applied to all born in the U.S. regardless of race or color;

Sun Yat-sen

(1866-1925), First President of Republic of China (1912), who had come to Hawaii where he became a Christian at the Anglican school and who posed for many years as an American citizen to raise funds for China;

Quok Shee

, perhaps the longest detainee on

Angel

Island

(September 1916-August 1918);

Japanese Picture Brides

(1908-1924) allowed by the Gentlemans Agreement;

Punjabi Sikhs

in

California

(1907-1917) who provoked nativist fears of the Turban Tide;

An Changho

(1878-1938), Father of Korean Constitutional Democracy.
It is clear from this small sampling that the histories of the United State and China, as well as other Asian nations, intersect in quite an unique way at Angel Island, providing a rich historical resource for the healing of nations.
The healing of Sino-American relations in todays world is of increasing urgency in light of three factors: (1) Chinas ascendancy as a rival global economic power to the U.S., (2) the conflicted history of U. S. indirect confrontations with China in the Korean War, the Vietnam War, and now through the war on terrorism, and (3) the exponential growth of an indigenous Christianity in China after a tarnished history of Christianitys association with Western imperialism.
In his remarkably revealing book Jesus in Beijing: How Christianity is Transforming China and Changing the Global Balance of Power, former Time Magazine bureau chief David Aikman has boldly speculated:
Christianity will change the nature of China and in doing so will change the world in which we live. Chinas moment of its greatest achievementmay lie just ahead. That moment may occur when the Chinese dragon is tamed by the power of the Christian lamb. The process may have already started in the hopes and works of Chinas house church leaders.<![if !supportFootnotes]>[25]<![endif]>
The Angel Island Immigration Station is at the intersection of two historiesAmerican labor and immigration history and the history of U.S. foreign policy with respect to China and Asia more generally.
As Loni Ding noted above, recovering Chinese American history is confronted with the problem of absence. Indeed, Chinese enter into American history by images of absence, even though their presence through their technological and agricultural achievements was absolutely crucial to U. S. emergence as a world power.
When I began writing this essay, I was in Sacramento, the first Chinese American city, known by the Chinese as Yee Fow. An article in the Sacramento Bee (March 8th, 2007) raised the issue of whether a Chinese railway yard deserved to be recognized and preserved. This railway yard was the western terminal for the Central Pacific Railroad. Although today many Americans know that Chinese laborers were involved in the building of the Transcontinental Railroad, that is, sadly, about the only fact they know about Chinese American history. Not many know that about 12,000 Chinese workers, about 90% of the workforce of the Central Pacific Railroad were Chinese. Furthermore, the Chinese not only provided the collective muscle, but also the technological know-how to work with blasting-powder and to dig tunnels through solid granite.
<![if !vml]>
<![endif]><![if !vml]>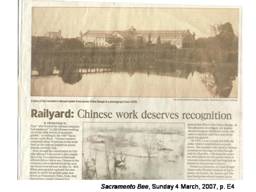 <![endif]>
Figure 11. Chinese Contributions to Sacramento ("Yee Fow") History.
Most history books now include the historic photo of the completion of the Transcontinental Railroad at Promontory Point on May 10, 1869. What is significant about the photo, the textbooks comment, is that not one Chinese face is to be seen. The presence of Chinese in American history is, ironically, represented by their conspicuous absence.
<![if !vml]>
<![endif]><![if !vml]>
<![endif]>
As Ling-chi Wang points out, in the second half of the 19th century and also the 20th century, Chinese Americans completed technological achievementsthe Transcontinental Railroad and the Information Highway, respectively, that created great wealth for America and in both instances, they were repaid with racismracial exclusion in the 19th century and racial profiling in the 20th.
How did Chinese come to America in the first place? From 1849 Gold Rush to the 1882 Chinese Exclusion of Act, over 300,000 Chinese entered the United States. While initially their labor for developing the Frontier West was welcomed, their reception turned decidedly hostile by 1852 when 20,000 Chinese immigrants arrived. Imbued with a sense of Manifest Destiny and white supremacy, Americans felt justified in engaging in racial discrimination and class exploitation. The Chinese were viewed as unfair labor competition, racial inferiors, and, in the words of the satirical Bret Harte poem, as heathen Chinee. <![if !vml]>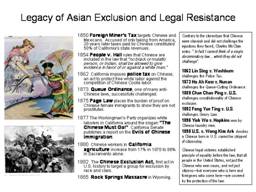 <![endif]>Moreover, discrimination was institutionally protected with the passage of such laws as the Foreign Miners Tax (1852) and People v. Hall (1854), which reversed the conviction of George Hall for murdering a Chinese man, Ling Sing, on the grounds that the Chinese were non-whites along with Indians, Negroes, and Mulattoes and so were banned from testifying in a court of law.
Stripped of legal protections, the Chinese were victims of hate crimes such as the Rock Springs Massacre (1885) and the Los Angeles attack on the Chinese community (1871). Shortly after the completion of the Transcontinental Railroad, the United States reneged on the Burlingame Treaty with China (1868) which recognized the Chinese subjects visiting or residing in the United States, shall enjoy the same privileges, immunities, and exceptions in respect to travel or residence, as may be enjoyed by the citizens of subjects of the most favored nation, but which, at the same time, denied Chinese naturalization rights.
The stereotype of the Chinese as the perpetual foreigner was created in part to rationalize blatantly racist and discriminatory laws. If, unlike other immigrants, the Chinese were not settlers, but mere sojourners who came to steal Americas wealth and to send it home to China, then their exclusion could be justified. However, research shows that the return rates of Chinese immigrants was no different from other immigrant groups. If these sojourners who were submissive, passive people who would not resist the legal and physical harassment, they could be harassed with impunity. Yet there is a long and noble tradition of Chinese banding together to fight injustice. While it is true that the Chinese called America Gold Mountain and that were lured to the frontier west, as were many others groups, by dreams of wealth, the stereotype of the perpetual foreigner, was motivated by envy, greed, and guilt. Moreover, the stereotype was not merely false, but quite the opposite of